(Last Updated On: December 31, 2022)
Jackery 160 review - 2023 (updated)
Let's start power station Jackery 160 review
The smallest and cutest member of the jackery family is this Jackery 160. Portable, lightweight, and price make it a perfect combo of a portable power station for indoor, outdoor, or camp backup.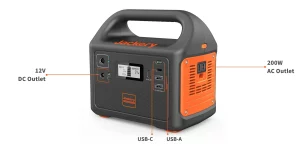 In this review, we will discuss the features, work area, durability, power, and all the other things related to this portable power station.
Before click buy button please read full article. You will be clear everything about the product.
All the portable power stations from jackery get the same design, the difference remains only in the dimension. It has a simple combining to the color of black and orange. In the upper part, a handle is attached, the jackery branding is just under the handle. 
On the front side, you will get different holes for different usage and in the middle, there is a mini display to show the operating details.
On the left you will get two holes, the upper one is used to recharge this power station. The same hole is used to recharge by the wall outlet, car outlet, and solar panel. Next to the input port, you will get a 12v output port. On the right there are three USB ports available, The first one is Type C and the others are Type-A USB ports which can procure a maximum of 5v and 30w. 
In the rights part of this portable power station, an AC outlet appears to power up those devices which require AC outlets. 
Overall you will get 5 outputs to power up 5 devices at a time. 
The item dimension is only 7.4 x 4.59 x 6.73 inches and the weight is 3.84 Pounds only.
Technical Specifications:
Capacity: 46400 mAh, 3.6 Volt, 167Wh (11.6Ah, 14.4V)
Battery type: Lithium-ion Battery.
Output: AC: 110V 60Hz, (Peak 150W, 100W)
USB: A Type: 5V, 2.4A.
B Type: 5V, 3A.
DC: 12V, 7A (6mm Ports)
Temperature: 14-104°F (-10-40℃) (Operating)

32-104°F (0~40°C) (Reaching)

Size: Like a small launchbox.
Description About this Jackery 160W
Jackery 160 is super compact having an AC outlet. So it is carried out for some small purpose such as charging laptops or running some small appearance which power rating is not more than 100W. The output of the AC outlet is 110V. It can be a unique product for you for a short trip or outdoor champaigns. 
Jackery is the one of famous portable power station makers in this industry, Before we got only higher power ranges portable power stations, Now it is for you if you need a small but compact portable power station from this renowned brand. 
It can power up to 5 devices at a time with multiple different types of outlets. So don't worry about bringing a charging brick for your phone or tables or laptops as it has the USB ports built-in according to your need. 
As it has multiple ports to power up, it comes with different types of ports to recharge itself. 
You can use SOLAR, AC outlet, Car Charger to charge this portable power station.  Amazingly the solar charger (Solar Saga 60, sold separately), can recharge within 4.5 hours. Where the wall outlet and car charger take 5 hours to recharge.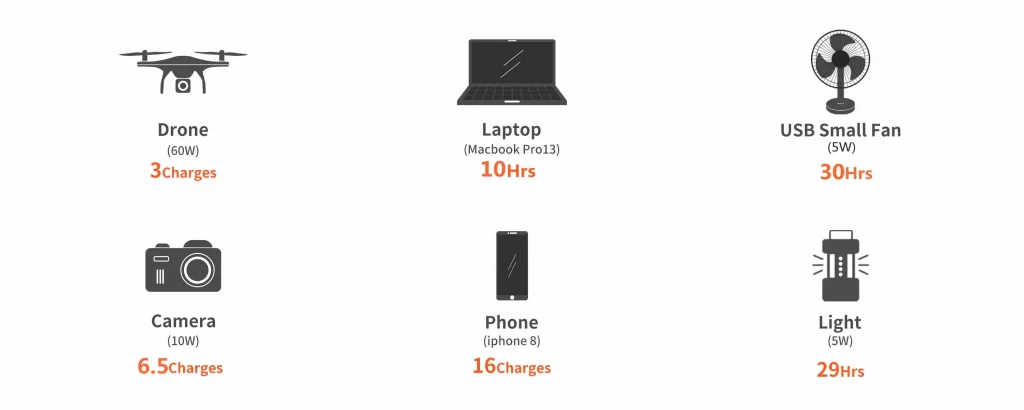 To measure the performance we recharge several devices with this jackery 160. Here is the actual result we got:
Phone: We have tested a phone that has a 4500 mAh battery and this jackery 160 could charge it 14 times. Depending on the battery capacity of a phone it can charge 10 to 16 times. 
Camera: If you want to charge a battery of the camera, depending on the battery capacity it is possible to charge it 6 to 9 times.
Laptop: You will be able to run your laptop for 8-11 Hours. If your laptop battery can run your laptop for 3 hours. You can calculate this time with the time of the backup with the portable power station. 
Tablet: A tablet can be charged more than 4 to 5 times with this portable power station. The performance actually depends on the battery capacity of the tablets. 
Drone: Nowadays drone is an essential device while touring. So here is the calculation of the number of charging of a drone with this jackery portable 160. you will be able to charge the battery of a drone almost 3 times with this power station, which is enough for two days trip.
More details about performance: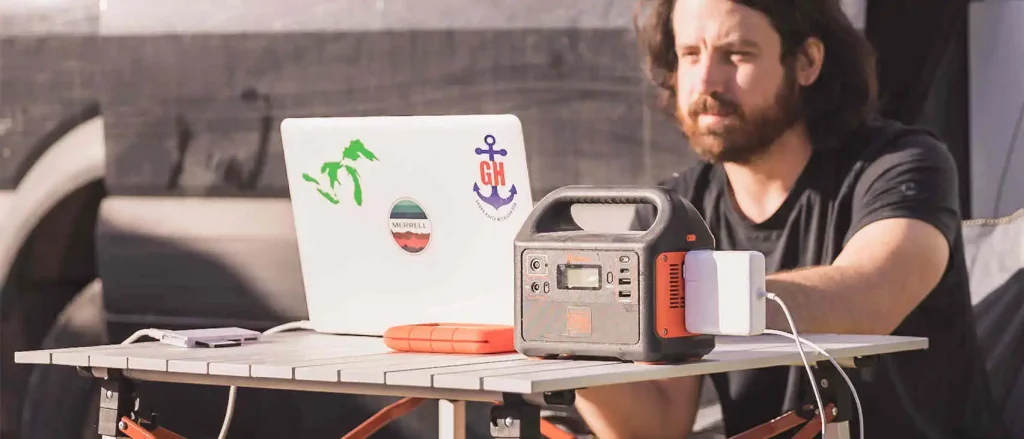 If you want to charge your MacBook Pro you just need the USB c cable as it has a USB c port built-in and you will get 15W of charging power. As it comes with the inverter so, it is your wish to use outlets such as AC or DC, but we recommend you to use direct DC ports to charge your laptops or other devices which support the USB connector.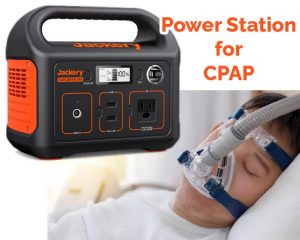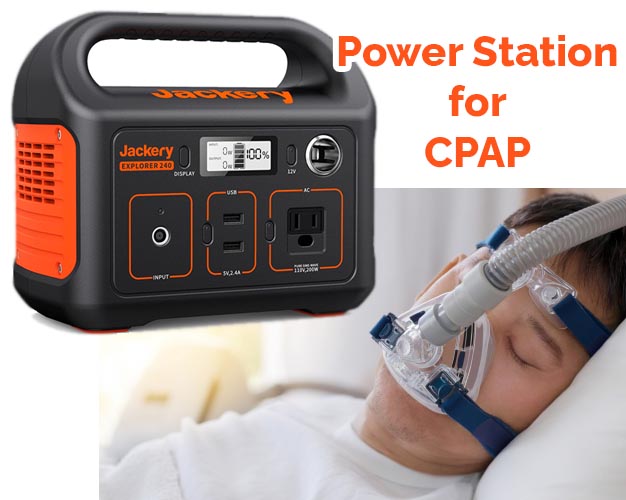 It can run a cpap machine, obviously, it will not backup for 4 or 5 days but if you run a CPAP machine with a humidifier it will run almost 8 hours having 50-60% of the charge left in the power station.
Why this small portable power station is best?
Generally, renowned brands do not make this type of small portable power station. But now you are getting it from the industry-leading brand jackery. So while purchasing this thing, you are worry-free. Again the estimation of the charging capacity and the other specs are authentic. Besides the quality standard of jackery makes it more attractive. The weight is not so much and it has a flashlight which can be used for campaigning as well SOS. While using the AC outlet, the cooling fan turns on automatically to prevent overheating. 
This tiny thing can be charged with a solar panel which is amazing and as it is not so big it does not require a lot of time to recharge with the solar panel. The solar panel can be bought from the same brand. So you do not need to think about recharging outlets while campaigning outdoor and it is an eco-friendly and clean green energy provider.
Why you should rethink while buying it?
As it is too tiny it can not power up heavy things such as Blender, Heated travel mug, Travel Mug, Kettle, Pressure Cooker. So if you need to run this type of heavy device do not buy it.
2 years of warranty.

Mega Charging stations for all types of devices.

Small, lightweight.

Functional and easy to use. 

Can be used as a solar generator.

Everything is clearly leveled and easy to understand.

Well placed input and output ports.

Backlight support for the display (auto-off after a few seconds.)
Actually, jackery tries to make a perfect product without any cons. It is very tough to find a con for this portable power station, but one thing we can say is that it can not provide pure sine wave with its AC outlet.
Overall this Jackery 160W portable power station is made to serve small needs it won't perform like the bigger one. For a short tour or camping where a lot of energy is not needed, it can be used there. It is easy to carry and use and has a solar recharge option. So we can give a rating of 8.5/10. For this price, it will be a good purchase.
Quick Scroll Table of Content