(Last Updated On: June 2, 2021)
Tips for healthy hair growth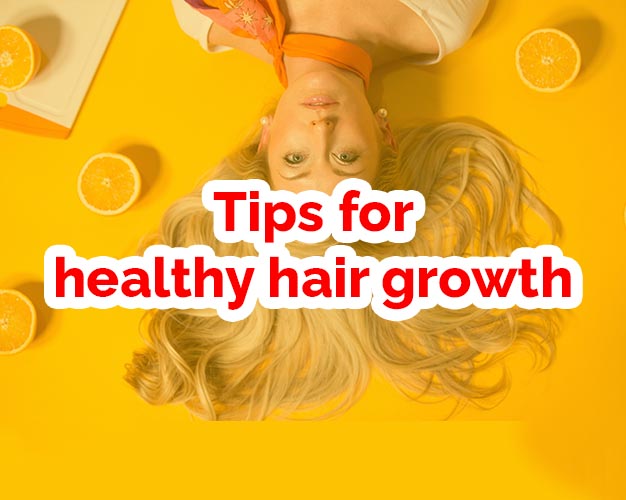 Tips for healthy hair growth
Healthy hair. We all expect it. But for many reasons, we lose our hair and face hair fall problem and the growth becomes interrupted. You may think that you should use a good shampoo but maybe the problem is in the food habit. you may take healthy food but there is a lack of proper care of your here. Don't worry. In this article, we are going to describe to you some essential tips to follow so that you can get back your healthy hair. 
To get healthy hair first you should find out the reason why your hair is unhealthy. Then you should solve the issue to recover the hair. You may change the dietary plan or you may need medications or treatments. Hair some Tips for healthy hair growth.
You are born with a lot of hair follicles and those are all. You will never get any new hair follicles in your entire life. And those are around 5 million in number. And your scalp got near about 100000 follicles. Hair grows from the root under the skin. The blood produces oxygen and nutrients to the follicles and it helps to grow the hair. Hair comes from the skin by the oil glands and the oil produced by the glands also helps to make the hair shiny and soft.
So to get healthy hair you need to improve the blood circulation under your scalp so that the follicles can get enough nutrients and oxygen to keep the hair healthy.
You may lose your hair for genetic reasons, but without this, you can lose it for many mistakes. Now we will find out the mistakes as well as something to do to recover this situation.
NB: THIS VIDEO EMBED FROM YOUTUBE. IT'S OUR RECOMMENDED VIDEO FOR USERS
1. Improve your nutrient profile
Some vitamins, minerals, and fatty acids are essential for hair growth. Your body needs a lot of energy to grow the hair, so you should arrange the nutrients by foods.
The demand for your hair
Biotin

Vitamin C

Vitamin D

Vitamin E

Zinc

Iron

Omega-3 and omega-6
Taking omega-3 and omega-6 supplements reduces hair fall and protect your hair from repeated hair loss. As well as lower zinc levels in your body can be a considerable issue for air loss because zinc is essential for hair growth. 
Bitcoin supplements help to improve the health and nail and it is clinically proved.
You should include those foods which including these nutrients so that you can help your hair to grow as well as you can buy some products related to the nutrients online. Such as "LES Labs Hair Health, Hair Growth Vitamins" and "SugarBearHair Vitamins, Vegan Gummy Hair Vitamins with"  which contains Vitamin A, Vitamin E, biotin protein, zinc, folate, Vitamins B-6, B-12, and a lot more essentials elements for your hair. You will find the instructions for using the bottle of the products. They are safe to use.
2. Avoid restriction on diets
Dr. Lindsey Bordone, a dermatologist said that "we can not control all the affecting things of our hair growth" but there are some activities that should avoid regrowing the hair.
Restrictive dietings limit the resources of nutrients of the hair. So resume the healthy diet as soon as possible. As well as remember that it may take a significant time to recover the hair after avoiding the restrictions on diets again. To know about the best foods for hair growth click here.
3. Recheck your protein intake
You may be having a restriction on your diet for several reasons but it decreases the protein intake in your body, as a result, the hair can't grow optimally, and shedding of the hair occurs. 
So there is no option to regrow your hair without proper protein intake. We recommend you to eat well-balanced diets which have sufficient protein. Generally, you should take 50 grams of protein or more per day.
4. caffeine-infused products can help you
We know that Essential oils are helpful in various parts of our body. A lot of research shows that it is also helpful for hair growth. 
A study explained that a dose of 400 milligrams of pumpkin seed oil increases the hair growth of males. Using it for 24 weeks can give you 40% extra hair growth than natural. A mix of saline, jojoba oil. 3% minoxidil or 3% peppermint oil can increase the dermal thickness, follicle numbers, and follicle depth.
6. Depend on scalp message
A scalp massage not only gives relaxation and stress relieving but also it can boost hair growth. Scientific research shows that daily 4 minutes of massage can give healthy hair than others who don't take the therapy. Massage in the scalp dilates the blood vessel under the skin as a result the hair follicle gets extra oxygen and nutrition by the flow of the blood.
7. Do not give heat to the hair, please!
Using a hair curler, straightener and dryer can damage your hair because these produce a lot o f heat. But we know these are the essential tools for stylings, so what should we do? We can one thing that we should limit the using of this products. As well as while using these products we should decrease the temperature as much as possible to make the stylie. 
But the good news is you will find some heat-protected products, using those products before operating heated styling tolls can reduce the damage and hair breakage significantly. It works in a way where it creates a protective barrier in your hair to lose moisture while using the heated tools.
HSI PROFESSIONAL Argan Oil Heat Protector can help you a lot. It can protect your hair up to 450-degree Fahrenheit heat produced by the flat hair iron or dryer.
Kenra Platinum Blow-Dry Spray can also be a good product to protect your hair from heated tool damages.
8. Hot Castor Oil Treatment to Promote Growth
Castor oil is a hero in the world of hair. Castor oil has anti-fungal and antibacterial properties which help to prevent scalp infections. It contains omega 6 and 9 fatty acids, vitamin E. it helps to retain the moisture of the hair. 
Castor oil is good for hot oil massage than other oils. It instantly improves the quality of your hair.
9. Over-Shampooing is helpful or not to repair your hair
It depends on the type of hair. Depending on the hair types the number of applying shampoo in a week can vary. If your scalp produces a lot of oil you may use shampoo several times a week, but if have a natural dry you should be more conscious about using shampoo.
Make sure you use the right types of brush for your hair. And avoid brushing hair when it is wet. Brush from top to end. Detangle from the ends and make sections for it. And finally, wash your hairbrush regularly to abid any kind of bacterial infections. We can recommend Tangle Teezer Salon Elite Detangle Hairbrush, Dolly Pink for you.
Helping your hair to grow faster and healthy is not a hard job but regular. We have researched a lot to give you tips for healthy hair growth. We hope it will help you a lot.
You May Like Another Post 🙂