(Last Updated On: January 25, 2023)
ECOFLOW delta pro has as much power as it can power up your entire home. Yes! From the product description, you might see that the output wattage is 3600W, but it can be augmented up to 7200W. 
Let's read the EcoFlow delta pro review, we are going to show you some truth about the power station and we hope that will help you to make a purchase decision. Of course, ECOFLOW delta pro is a powerful power station but it also has some drawbacks. To know every detail read the full article carefully. 
First thing first, the price of the ECOFLOW delta pro home battery system is  $3500. It is going to be a huge investment, 
so why should you invest this amount? 
It can be the ultimate power solution, solar generator and green energy provider for a small cabin or a small house. It has the upgraded technology of LFP (The lithium iron phosphate battery) which makes it more usable as your daily power source. 
The battery life cycle of this portable power station has significantly improved from previous versions. 
You will be able to use it for home power solutions, champing, and traveling. 
Before going to the performance section of this portable home battery system let's check its design and specifications.
Before click buy button please read full article. You will be clear everything about the product. Please use the right sidebar table of content.
The dimension of the ecoflow delta pro is 25 x 11.2 x 16.4 inches. The stylish robotic box shape makes it more attractive. In the front part display panel and ports are present.  
It has two wheels in the back bottom to easily move from one place to another place. In the side view, the logo of ECOFLOW is engraved. Overall it gets a futuristic look. On the backside different connectors are available to add external batteries.
Brand:

EF ECOFLOW

Wattage:

3600 watts

Item Dimensions:

LxWxH 25 x 11.2 x 16.4 inches

Voltage:

120 Volts

Frequency:

60 Hz

Output Wattage:

3600 Watts

Power Source:

Battery-powered, Solar powered.
Before telling about the performance you need to know the watts. It comes with 3600 watts and the pick watts are 7200. 
So before buying this one calculate the total watt of appliances you want to operate with this and be sure the accumulated watts don't exceed 3600watts. 
If you need to operate more than the watts of 3600, you can buy an extra battery pack. 
With this home battery system, you will be able to run almost every home appliance.
Though depending on the rated watts of the appliances the runtime will differ. 
From fridge to tv, washing machine, and steam iron, feel free to operate with it. In the features section, we will discuss more about the run time. 
The operation is flawless, sound and pollution-free. Overall the performance of ecoflow delta is far better than its previous versions.
The unique design of ecoflow delta pro offers a luggage-style padded handle that is expandable as well as sturdy wheels to make carrying easier. 
It has multiple cables for chagring from AC Sockets. Amazingly charging from a wall socket is too fast though the battery capacity is huge. 
It draws up to 15 amps during charging and 1800 watts which means it can be charged in 2 hours! Just amazing!. From the App, you will be able to control the current flow to this power station while it is charging.
It supports simultaneous charging from AC input, DC input, and solar panels to make charging speed too fast. Additionally, it supports using and charging this device at the same time, which means you are getting pure sine wave with the help of this power station from a source that can not provide pure sine wave. Pure sine is very urgent for the safety of some devices.
Using an adapter allows you to charge it from electric vehicle charging stations or traditional gas-powered generators. Some best gas power generators for home use.
As it has an output power of 3600 watts, it can run almost every appliance such as a freezer, refrigerator, oven, etc. later in this review you will get a "run time" comparison table for different devices.  
Additionally, it has features of x boost, The crossflow has done a great job here, if you want to run the devices more than 3600 watts, it activates x boost mode to power up those higher power rated devices.
A new type of battery is introduced here. The LPF (Lithium iron phosphate battery). 3500 cycles to 80%+ capacity means after a successful 3500 charging cycle it's lost only 20% of capacity.
The previous type of battery was Li-po which loses 50% of capacity after 1500 cycles.
Features that make it special: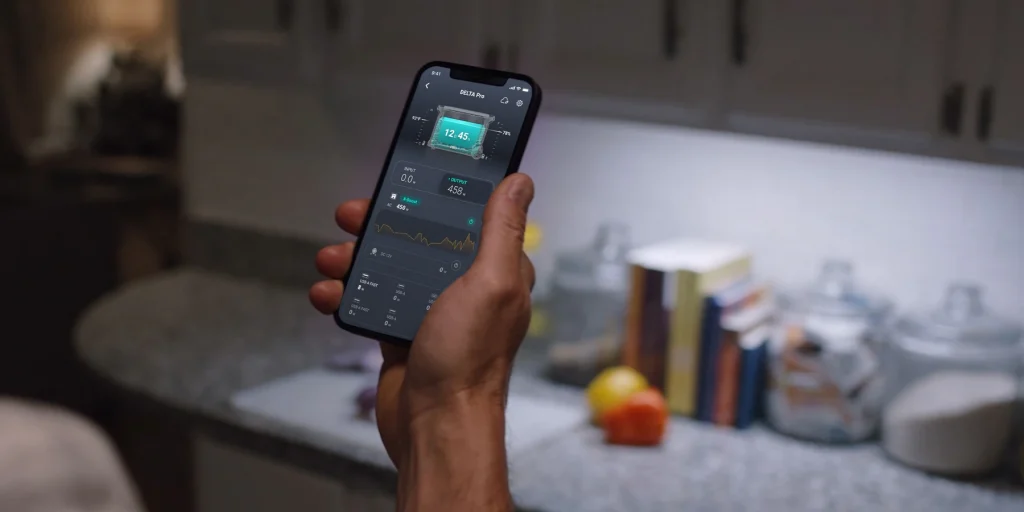 In the eco flow delta power station there is a dedicated IoT button. By pressing this, you will be able to connect it with the app via Bluetooth or wifi, to control and monitor almost every feature of this portable home battery system.
On the front side, you will find a covered part. Opening the cover will access you to the DC output port (Car Charger), DC5521 Output port.
The Amazing features of this Eco flow are the remote control display and port. To connect with this display a dedicated remote control port is present.
In the front part, you will have 5 AC outputs, where the 4 ports can provide a maximum of 20A and the rest can provide a maximum of 30A. 
Along with the AC outlet, in the front part, 4*USA A types and 2*USB C types ports are available to charge.
You may be thinking about portability as the power is so much higher than traditional power stations. 
Yes! It is not very easy to carry but it is still portable considering the power. The weight of this powerhouse is 99lbs.
Well, it can produce more than enough power to power up the devices you use while camping, such as mobile phones or communication devices. 
If you are planning to make a group of 5-10 members, One ECOFLOW delta pro can be the best camping solution for all the group members. 
But for personal use or two group members champing, we are not recommending it, as it is quite heavy to carry and not price worthy.
Detailed Specifications Table:
Specifications

Yes/No

Description

Wh and volts

 
 

Dimension

 

25 x 11.2 x 16.4 inches

Weight

 

Approximately 99lbs

Display 

Yes

5 inch bright LCD Display. 

Battery

 

Type LPF (Lithium iron phosphate battery)

AC Output

Yes

Total 5 outputs (Supports Pure Sine Wave)

120V~ (60Hz)

Anderson Output

Yes

1 ×  Anderson Output

DC5521 Output

Yes

2 × DC5521 Output

Car Charger Output

Yes

1 × Car Charger Output

USB-A Output

Yes

2 × USB-A Output

5V 2.4A,

12W Max (per port)

Supports Fast Charging. 

USB-C Output

Yes

2 × USB – C Output

5V 5A

9V 5A

12V 5A

15V 5A

20V 5A

(100W Max per port)

AC Input

Yes

120V 1800W Max, 240V 3000W Max

100-120V~ 15A, 220-240V~ 12.5A, 50Hz/60Hz

Solar Charger Input

Yes

1600W Maximum.

11-150V 15A Max, 

Car Charger Input

Yes

Supports 12V/24V Battery, Default 8A

Charging Input; EV Station,

Yes

(adapter sold separately), 3400W

Maximum Charging Input

Yes

6500W

Protection for devices 

Yes

Low-Temperature Protection

Over Voltage Protection

Overload Protection

Over Temperature Protection

Short Circuit Protection

Overcurrent Protection

Low Voltage Protection

Connectivity support

Yes

Wi-Fi

Bluetooth
Run time of devices with ecoflow delta pro:
Household appliance run time comparison table:
| | | |
| --- | --- | --- |
| Device | Rated power consumption | Estimated run time |
| Air Fryer | 1500W | 2.2 hours |
| Coffee Maker | 1000W | 3.3 Hours |
| Electric Drills  | 1080W | 3 Hours |
| Microwave oven | 1300W | 2.5 Hours |
| Electric Fry Pan | 1500W | 2.2 Hours |
| Hair Dryer  | 1600W | 2 Hours |
| Electric Kettle | 1500W | 2.2 Hours |
| Electric Heater | 2200W | 1.5 Hours |
| Iphone  |   | Can be full charged 250 times |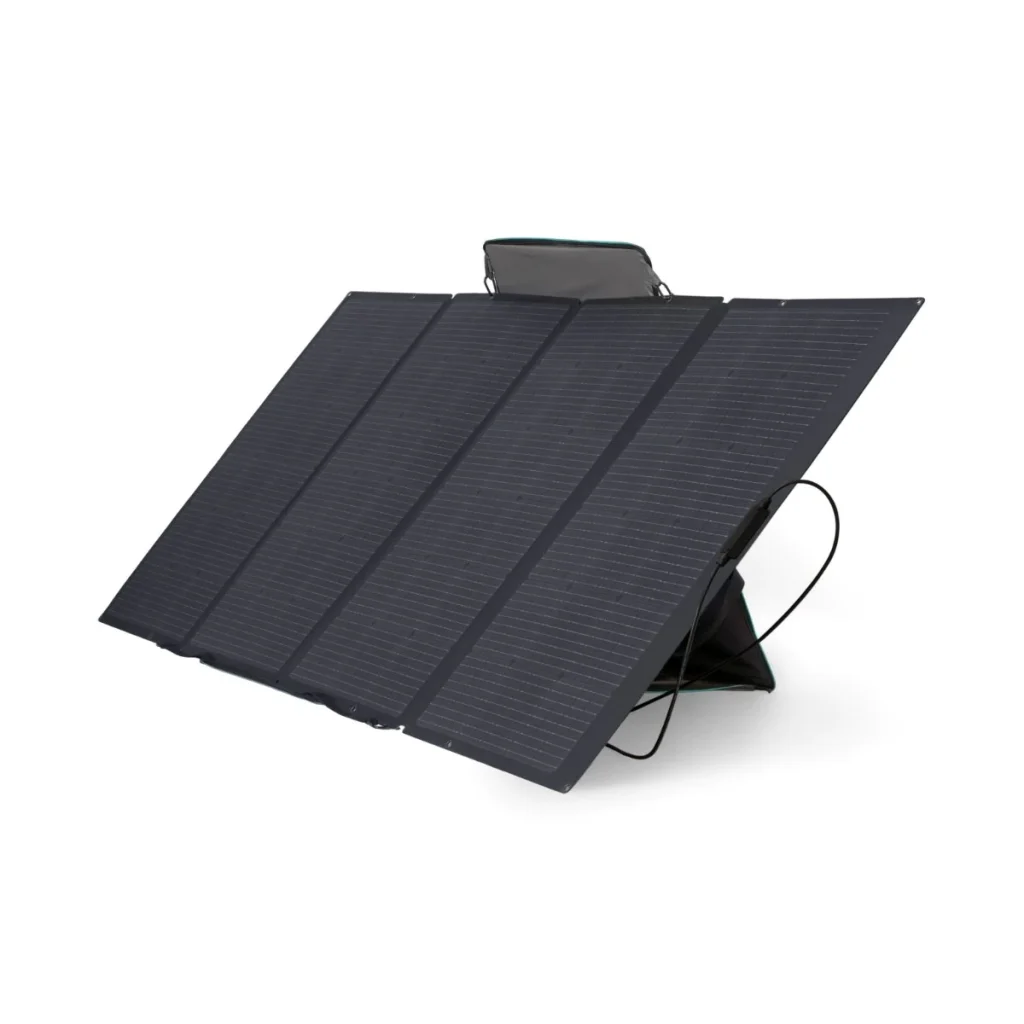 You can buy it from the ECOFLOW company
We have made a dedicated section in this review for solar energy. As it has an option of charging from a solar panel, we will discuss how fast it can be charged from the solar panel.
The ecoflow delta pro can be charged with a solar panel. It supports up to 1600w input through solar panels. The solar panels are sold separately. 
Only a 400w solar panel takes around 10 hours to fully charge it. Though it is a long time, only charging for 3 or 4 hours can be a good capacity if charged to run your necessary devices. 
Though it supports simultaneous charging and using so, where there is no option the solar power generator can help you a lot.
Features of EcoFlow 400W Solar Panel:
Durable and waterproof

It can charge all models of ecoflow power stations.

Clean, stable, and reliable energy for your daily use.
Advantages of ecoflow delta pro: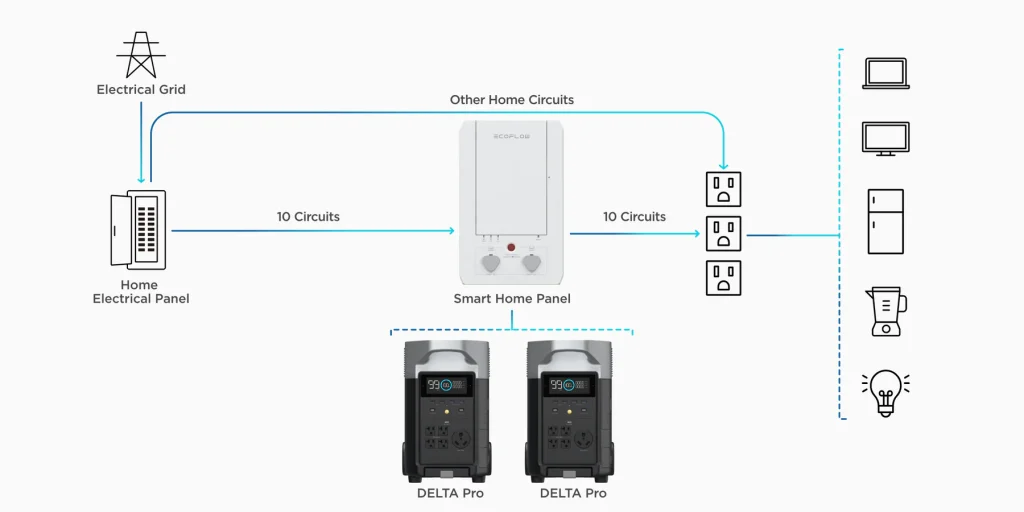 Solution of any power-related source.

Pure sine wave technology.

LFP Type battery (Gives more cycles with lower capacity decrease.)

X boost mode to run heavy power-consuming devices.

Additional battery makes it a power source for a full home.

Unbelievable lower charging time.

Multiple charging inputs work at a time.

Charge and use simultaneously.

Plug and play.

Remote control monitor.

Wifi and Bluetooth-controlled app.

Best companion for champing or any hazardous moment.
Well, Ecoflow tried to keep it perfect, We think in every segment they are successful. 
But there are some drawbacks in designs such as the AC ports are too close to each other. Sometimes it is impossible to use multiple plugs at a time if the adapter is big and takes more space. An external cord can be a good solution.
Here, pricing could be a drawback as the price is too high. But we don't think so. Generally, This type of device costs more as it has giant power storage and new battery technology.  You just should find out the best one at a similar price.
Is it better than a Gas power generator?
While comparing with a gas power generator, you may see some differences, and the main difference here is that The ecoflow delta Pro is quiet and doesn't make any noise. 
But the gas-powered generator makes annoying sounds. 
The power source of a gas-powered generator is only gasoline but for the ecoflow delta pro, there are several input systems available. Gas-powered generators can not use a solar generator but the ecoflow delta pro can. 
Overall without price and weight, in every segment, the ecoflow delta pro is the clear winner.
DELTA Pro Power Station

AC Charging Cable 

Car Charging Cable 

Solar Charging Cable 

DC5521 to DC5525 cable 

Handle Cover 

User Manual
If you are searching for a portable power station to meet the necessity of your daily power consumption, after examining the quality, durability, and features, The ecoflow delta pro can be the best choice.
Quick Scroll Table of Content