(Last Updated On: January 2, 2023)
best diagnostic scanner review of 2022 (updated)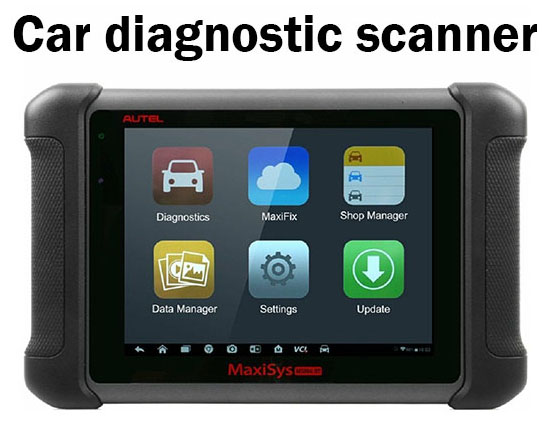 The best diagnostic scanner can be your best friend while using any vehicle such as cars, trucks, and others. You know a diagnostic scanner can diagnose the computer chip inside the vehicle, show the problems, and can solve any code-related error. Modern diagnostic scanners can also display the safety features to the tire pressure of your vehicles.  
Airbags, engines, emissions, suspension, anti-lock braking systems, and various other components need regular checkups for the safety of you and your family. As well as if you are a DIY mechanic of your vehicles and always want to avoid extra cost for simple problems you should have a diagnostic scanner which is widely known as OBD (On-Board Diagnostic) tool. 
Without home use, if you are a car dealer, garage owner, or old car seller, you should have a diagnostic scanner to provide the best service within a short time to your customers. Most modern vehicles can store data in their internal computer chip. All you need to do is read those data and repair the code if needed. 
In this article, we will discuss some widely used and popular best diagnostic scanner for the user of the vehicle worldwide and especially for the USA, Canada, UK, and EU countries. 
We have arranged the article in such a way where you will find from the DIY or beginner level best diagnostics scanner to the professional level diagnostic scanners. 
According to your budget and vehicle type, you will get the best diagnostic scanner. We have selected the modern OBD2, the best diagnostic scanner which supports almost every brand from Japan, America, Germany, and other renowned countries.
Price Range: $200-$300
If you are a DIY mechanic and new, we recommend you to select and buy a diagnostic scanner in this price range. At this price, you will get a diagnostic scanner with almost every feature to learn the problems and checkup.
Actually, this is an upgraded version of the NT604 and NT621lite code scanner. And this is an automotive scanner that scans from entry-level to professional. It has the most expected features such as oil reset and EPB service update. In the list of the best diagnostic scanner. We have put it in the first for its lower price but wide popularity. We will come to the details after unboxing details.
To know about Foxwell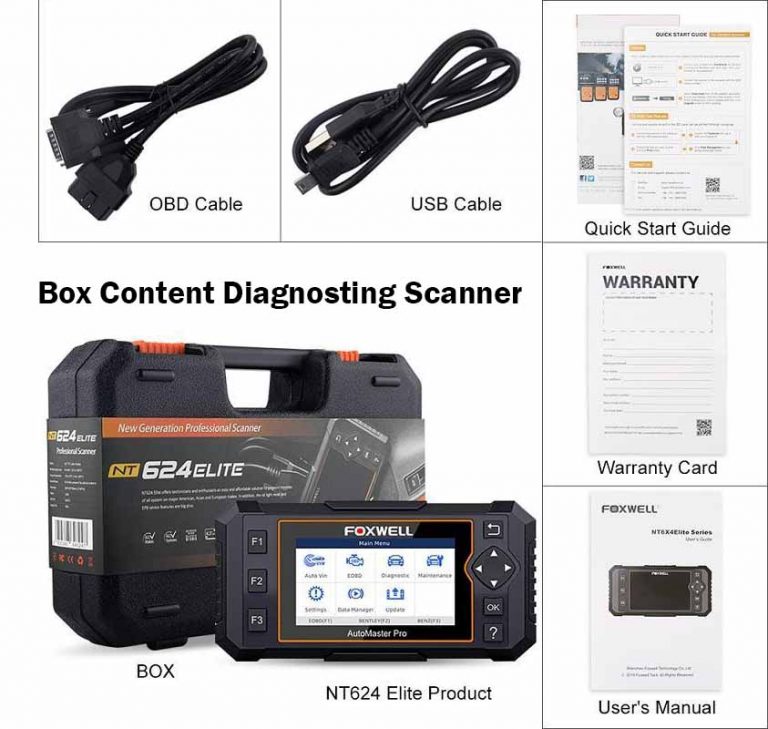 You will get it with a sturdy BOX to carry and store and the dimension of the box is 350*240*88mm. This is not so big and can easily be carried in vehicles. In the box, you will get the NT624 Elite OBD2 diagnostic scanner, an OBD cable to connect with the vehicle OBD port, and a USB cable to update the scanner. 
You will also get a quick start guide and a user's manual. We recommend you read the start guide and user's manual before starting the scan. You will get a warranty card too, we recommend you keep this card to claim the warranty. 
Compatibility: This diagnostic scanner is featured with Auto VIN scan support and just plug and play. It supports 1000+ vehicles brands and models. This scanner provides accurate vehicle identification which helps to find any pinpoint error and provides real-time live data. As it comes with installed software, you don't need to do anything after opening the box, just plug and start diagnose out of the box. 
Performance: We have checked all the features in our 2022 BMW X6 car and all the features included here work fine. We have got the accurate result for the basic performance test. We have tested the OBDII functions and performance was acceptable. It can provide the best in its range. Though you will not get advanced features. And from a basic low budget scanner can not provide the advanced functions. Look at the other reviews if you need an advanced diagnostic scanner. 
Why have we put it on the best diagnostic scanner list?
All in one scanner tool: It is an entry-level to professional automotive. So no matter if your newbie. It is featured with all system diagnoses and OBD2. Free lifetime software update. Additionally, it has oil reset and EPB (electronic parking brake) service reset functions. 
Live Graphic Data and Full system basic diagnostic: It can scan maximum systems in this price range such as BCM, HAVC, BMS, Digital Radio, Instrument Cluster, TPS, Park Steer Assist, DPF, Headlamp, DSC, DME, Immobilizer, Steering Wheel, Wheels and more. You will get live data and read information for all electronic control modules of your vehicles. 
Data record and print with 2 years of warranty: With this diagnostic scanner you will be able to record and print the data you will get from the scanning.
Here is a short video about Foxwell scan tools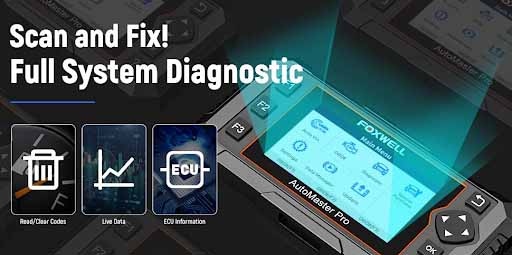 Sensors Data:
You will be able to view and read almost all the sensors data of your vehicles.
The scanner is best for:
Making a full diagnosis for your car in a few minutes!

It has a wide coverage of car models and brands and it can be the best diagnostic scanner for

Toyota,

Honda

, Chevrolet, Ford

,

Mercedes-Benz, Jeep,

BMW

, Porsche, Subaru,

Nissan

, and more. 

user-friendly Interface layout Minimize the difficulty of use.

Can be worked as OBDII Code Reader.
Best for home use. Best diagnostic scanner for entry-level users.

Support all the basic scans and limited advanced scans.

Easy to use.
Lack of OEM data.

Advanced scanning is limited.
Final words: In this price range it is one of the best diagnostic scanner. Forget about $30/$40 scanners. It can do a lot more within a minute. While searching for the best diagnostic scanner, it can be your great choice. Before making a purchasing decision, you can check the other reviews.
According to our reviewer, it is one of the best diagnostic scanner for cars and truck owners. It is a 2 in 1 scan tool that can be used to get access to the vehicle's electric control units and sensors. Now it is easy to read and remove the codes and analyze the sensor data. Thanks to FCAR F507 2 in 1 diagnostic scanner.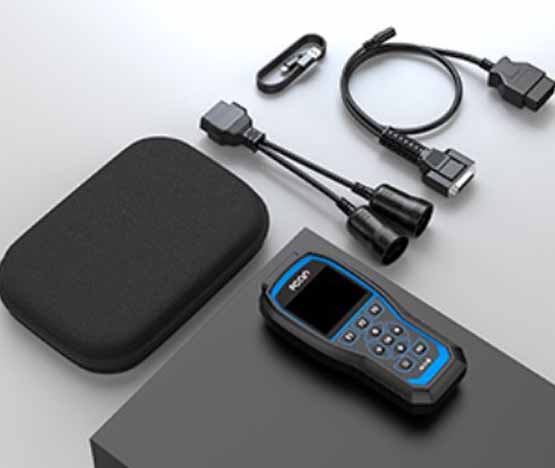 We have received the box and inside it has the main machine which is FCAR F507 diagnostic scanner, Two Cables (16 Pin Cable and 6 Pin & 9 Pin Connector) to connect with your truck or car and a USB cable. And luckily you will get a carrying bag to carry and keep it safe. The shape is a little bit tall and it has a similar size to a mobile phone but fatty. A blue stripe of making it more attractive. On the head, it has the ports to connect with your cars and vehicle. 
Performance: At first we have tested this diagnostic scanner on our Audi. As we are not professional and using this scanner tool only for making the review, we were a little bit confused about that, will we be able to use this tool? But fortunately, this scanner tool is too much easy to use and it seems like just plug and plays. 
We have used it to retrieve the codes and it was working without any problem. It can also erase the codes. As we were getting the live data, we were being confirmed that our car has any problems or not. As it has an anti-glare screen we were not facing any problem while using this diagnostic scanner. To make the review we have tested all the features with our car and we were very happy to get the results. 
As well as it is made by a well-known company so we were little bit sure about the quality and we were satisfied. The company has claimed that it can also scan a truck, We hadn't any truck but we are pretty sure that it will perform well on the truck too.
Why we have placed it on the list of best diagnostic scanners?
Actually, we are pleased with its performance. As well as in this price range it is offering a lot of features such as ABS checking, Support OBDII, and diesel OBD protocol. It offers graphic live data. You will receive lifetime updates from the company and it can provide screenshots and data playback. It has one year warranty.
Easy to use.

Can scan both cars and trucks.

Have a lot of features.

Looks good and smart.
The operation manual might be broad.
Final Words:
It will save you money as well as your time. And it has more advanced features. We recommend it to buy but at first be sure that, for which diagnostic you are going to buy it, it supports that.
Worldwide Autel is a popular brand that makes professional diagnostic scanner tools. Their scanner supports more than 80+ brands and near about all the cars available in the market. Today we are going to review the Autel DS808K which is the successor of the previous model DS808. This diagnostic scanner has full OBD2 functions and OE level diagnosis. The company has advertised a lot of functions, today we are going check all the functions on three vehicles and will check does it really work like advertised or not.
Unboxing, Box Content, and Design:
We have received the Autel MaxiDAS DS808K after two days of ordering and we were pleased with the packaging. It comes in two sturdy boxes. One is for the various converter connector for different brands, and another box is for the diagnostic scanner and universal KIT cables.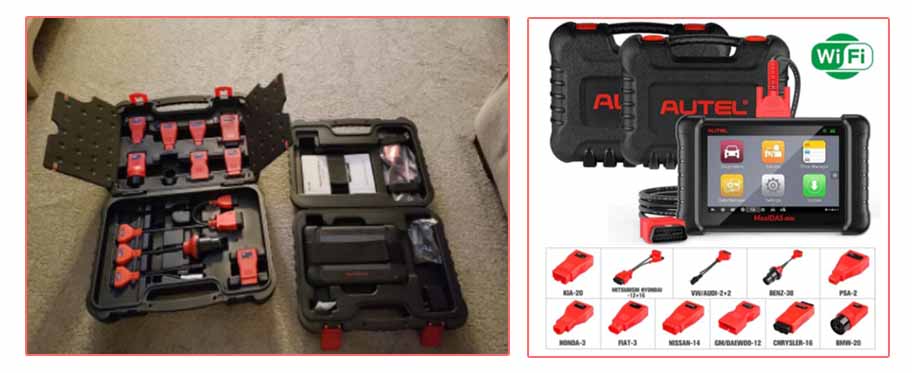 Design: The diagnostic scanner has great built quality with 7 inches wide 1024 x 600-pixel screen. And it has a stand to keep it standing.
Performance:
Now it is time to check the performance. As the company has advertised a lot, we want to know if it really works or not as the advertisements. We will try to check all the features. We have checked this scanner on Audi 2012 A4 and 2013 Chevrolet Cruze. At first, we checked the Auto VIN. And it has perfectly identified the brand, model year. We were surprised by the speed of identification. 
Then we checked the ABS functions and SRS service and It performed well. To check the EPB service on both cars we checked the brake fluid control. We were happy with the performance. The company is claiming that it can also reset the breaks after disk and pad replacement though it was not possible to check we were so confident that it will be able to do that. 
Next, it is time to check the SAS calibration, and it resets the steering wheel position and the angle sensors. We checked the filter and it has cleaned the blockage by DPF regeneration. 
This diagnostic scanner supports the active test on our 2012 Audi A4. And fortunately, we were able to check the "Active test" and the result was satisfactory. 
So, after all the tests, we can tell you that, it is really a good, study and one of the best diagnostics scanners for your car and you must have one. 
Why we have placed it on the list of best diagnostic scanners?
After reading the performance section, we hope you have already understood why have we placed it on the list of the best diagnostic scanner. It performed well and super fast on all our test units. And the design, performance, and box all were pleasing.
No False advertisement.

The display is large and bright.

OE all systems diagnostic

Supports more than 80+ Brands.

30 days full refund if not satisfied.
The price is a little bit high.

Yearly update cost $300+ for this model.
Final Words:
If you are searching for the best diagnostic scanner for the brands such as Buick; Cadillac; Chevrolet; GMC; Chrysler; Dodge; Jeep; Ram, Toyota, BMW, Voxwagon, Mitsubishi, Nissan, Honda, KIA, Honda, and your budget is between $500-$1000 then you can buy it. It is really worth buying.
In this price range, we want a device that has a bigger screen and supports maximum cars. If you are a garage owner, this price range is suitable for you.  You can buy it if you are a DIY lover who wants to check your car at home. It has some extra features and let us describe them briefly in the product review section.
We were searching for some large diagnostic scanners packed with all features and we got it. The LAUNCH X431 V+ PRO Elite 4.0 Diagnostic Scanner. It comes with a bigger display and can perform a lot of tasks according to the advertisement. We don't believe in advertisements, Now we will check every feature of this diagnostic scanner on our vehicles and tell you the reality. Is it really performed as the company is claiming or not? Let's start.
Unboxing, Box content, and Design:
We have received this in a box and inside the box, we have got a sturdy plastic caring cage. Inside the cage, we got the launch X-431 pro V.40 diagnostic scanner and on the other side of the box, there were a user manual and other cables. Overall the packaging was good and the caring case was good enough to carry and store the scanner.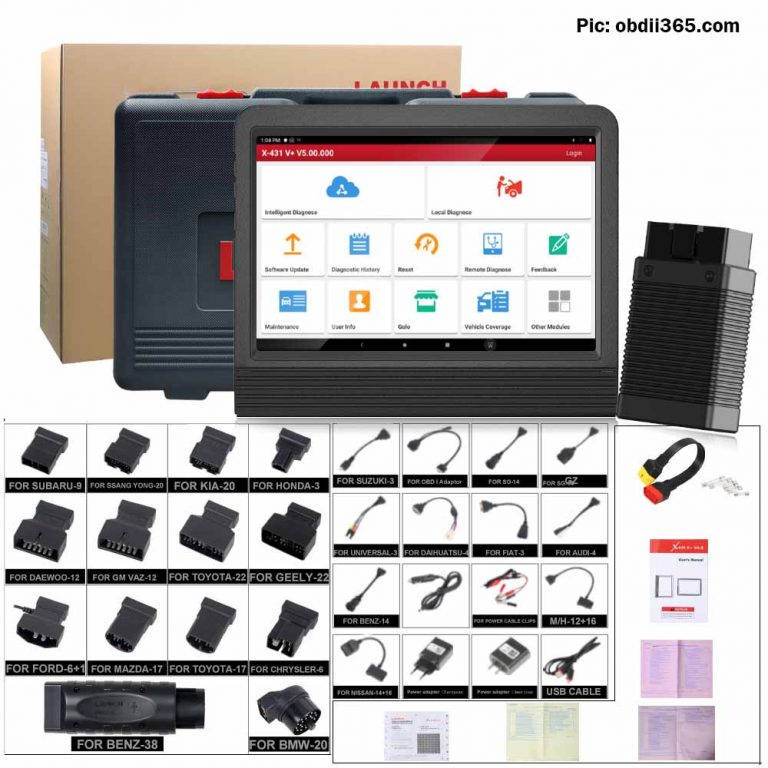 Design: In the design section, we got something we were expecting. It has a 10.1 inch full HD (1920*1080) IPS LCD screen. Actually, this is an android tab from Lenovo with a scanner compatible housing where the diagnostic scanner software from launch is installed. It has a 5 mp front and rear camera and comes with a 7000 mah battery which will keep you far from frequent charging. 
As it is an android tab, you will be able to use any android application and avail all the features of android 9.0. Along with the scanner software. But in the section we got some drawbacks such as, It is quite bulky. To accommodate the ports maybe they have made it bulky. But if the performance is okay we will recommend it. Let's go to the performance section. 
Performance: To measure the performance of this LAUNCH X431 V+ PRO Elite 4.0 diagnostic scanner we have taken a 2015 BMW 7 series. And started with the Auto VIN. It does not need to say that, before starting we have checked the video on how to create an account and update for the specific car. It is too easy like opening a social media account. 
It was very fast and accurately detected our car. Thumbs up for this. 
Then we have checked ECM (engine control module), TCM (transmission control module), ABS (Anti-lock Brake System), SRS (Supplemental Restraint System), BCM (Automotive Body Control Module), SAS, Fuel System, Light System, and A/C system. And the good news is, It worked perfectly. 
We were a little bit confused about the active test but it was successful to do the active test. 
To make this review we have performed  ECU (Electronic control unit) online coding. It has done well. Till now it was working as the advertisements. We were able to flash hidden functions in our car.
We have used the Bluetooth OBDII tool that comes with it, and everything was fine. 
Finally, after doing all the tests, we can say that t is a good diagnostic scanner and nothing was a hoax in the advertisement. If you buy this we recommend you to watch some video so that you can operate it easily though it is too easy.
You may face some confusion between these two. We are here. The price of Autel MaxiDas is below $1000 and the price of LAUNCH X431 V+ is more than $1100.
Though the price is a little high, you will get a large and some extra features such as ECU online and offline coding and other features. This one comes with an android tab that supports Bluetooth, wifi, and all the android apps. As well as The Launce diagnostic scanner has 50% more coverage than the Autel. Agin, On the Autel you will get only 1 year of free update warranty but Launce will provide your 2 years of free update and 5 years of warranty.  
Finally, if you are a garage owner go for the LAUNCH X431 V+ PRO Elite 4.0 Bi-Directional Scan Tool and if you have two or three cars we recommend buying the Autel MaxiDAS DS808K 2021 Newest Diagnostic Scanner. If your budget is flexible LAUNCH X431 V+ is recommended for all.
Support ECU online and offline coding. 

Super fast and 99% vehicles OBDI and OBDII scan.

Print the scan report via wifi. 

Active test
After two years you have to bear a high cost for updates.
Final Words: Actually as are paying more we are getting more. But it is a good enough diagnostic scanner. One of the best in the industry. You can buy it if your budget is more than $1000. The bigger display and the Diagnostic apps UI are very easy to navigate for all the users.
Ancel is a brand that produces a number of diagnostic scanners and battery testers for cars and vehicles. Today we will review their Ancel DS7000 diagnostic scanner. In this price segment, we prefer a big screen and an android diagnostic scanner. Very few good big-screen scanners are available in the market and we have selected the best two from those. Like all the brands Ancel has also advertised a lot, but while reviewing we found some problems here though it has a lot of advantages. To know all the things go through the review.
Unboxing, Box content, and Design:
We received it in a sturdy plastic box, There were the diagnostic scanner, paper works, Bluetooth OBDII port, and converter and cables. Have a look at the unboxing video from youtube.
Actually, we were expecting some more converter like LAUNCH but we were disappointed though it has a Bluetooth OBDII port we prefer more converter. The cables and the other materials were sturdy and hardy. We like it.
It has a good stand to support it while standing. Thumbs up. 
Design: In the design section it has nothing good or nothing bad. The traditional big-screen android tablet with some ports. The good thing is it has an 8 mp camera, 64 GB RAM, and an 8000 mAh battery. 
Performance: To test the performance, we have taken a BMW X5 model 2015. At first, we tried the Bluetooth Dongle, The connection was accurate and fast. 
As we had a problem with the fuel indicator, we tried to fix it and it was perfectly done. We have tested the break, SRS, and ABS. Performance was accurate of this scanner. It can check the battery and 34 + functions. But for the battery at first, we faced some problems but finally, it worked accurately The active test/bi-directional features worked perfectly on our car. We have tested Fuel System, Light System, and A/C system and it successfully checked all the functions.
If you are confused between the LAUNCH X431 V+ PRO and ANCEL DS700 diagnostic scanner, We recommend the  LAUNCH X431 V+ PRO for the price. Almost all the features are the same from auto VIN to bi-directional functions. Only you will get more storage and more camera mp in the Ancel and we think for a diagnostic scanner those features are so much essentials. 
The free update duration is the same but there was no information about the warranty. Some necessary features such as two years of free updates provided by both brands. Both diagnostic scanners have all the features and are best from DIY to professional mechanics. But for the price, the winner awards are going the Launch X431 V+.
All features are included.

Big screen.

More space to store data.

Support Bluetooth dongle
Price is higher than the competitors.

Costly update price after two years.

A few problems with after-sales service.
Final Word: After reading the full review we hope you better understand which one is for you. For checking the lovely car you need the best diagnostic scanner. Here compare the price for the features. You should not buy this if you have a budget between $1000-$1500 because the competitors are offering something more.
Finally all depends on your budget. If your budget is low you won't get the advanced features such as auto VIN, bi-directional/active test. ECU coding and more. If your budget is below $500 go for FCAR F507 Heavy Duty 2 in 1 Diagnostic Scanner for Car & Truck because at this price it can scan the truck.
If your budget is more than $500 but below $1000 go for Autel MaxiDAS DS808K 2021 Newest Diagnostic Scanner. But if you can spend $1000, why not an advanced diagnostic scanner with a bigger screen for only some extra bucks. LAUNCH X431 V+ PRO Elite 4.0 should be our final choice if you can spend near $1200. The best diagnostic scanner from our review.
You may like related content